Glitter Products
Click on one of these products to learn more about these products and start designing your own projects.
Gems
You are going to love these little "gems". Add a little sparkle to your next project by simply adding a little adhesive. Simplicity at its best.
Please click here to view a sales sheet and find out more about Sulyn's gem products, colors and part numbers.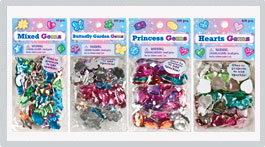 Colorful Gems
Comes in variety packages that include; letters, numbers, princess, hearts, butterfly shapes and more.
Sparkle Gems
Dazzling flat back gems. Decorate fabric, craft projects, paper crafts & more. Works great with Sparkle 21. Wearable and doesn't wash off.